Asteazkena. Abuztuak 6, MARKINA
Goizean goiz esnatzen da hemen jendea. Erromesak egunsentiko oilarren batek esnatzen ditu antza. Arrapalada baten badoaz hurrengo etapa egitera, eta kontua da zeinek arinago egin orduan eta lehenago heltzen direla hurrengo aterpe irekira. Bide honek baditu antza oso oso merkeak diren aterpeak etapa bakoitzean. Eta horren bila abiatzen dira goizean goiz. Astrapala horrek esnatu nau ni ere. Izartu eta astoa atondu dut lehenengo. Markinako iturrian ura hartzen nagoela ezagutu dut hemengo kooperatibako nagusia be, Diba pentsu kooperatiba. Beragaz berbetan esan dit Etxebarriko euren lantegira joateko, eta nahi beste olo hartzeko Patakonentzat.
Plazan gosaldu eta abiatu naiz Markinatik Etxebarrirantz, nahiko goiz. Dibara heltzean oraindik langileak ez dira heldu. Heldutakoan nagusiak esana zien zer behar genuen astoak eta biok. Olo baltza hartu dugu gure dana, eta erosketa batzuk ere egin ditut baserritarren kooperatiban. Eta Etxebarrirantz oinez gero. Eguzkia dakar gaurko egunak be… eta gaur Bizkaia eta Gipuzkoaren arteko muga be gurutzatzekoak gara.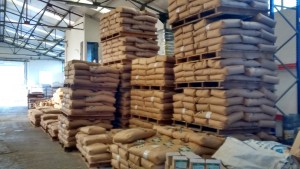 Bidean desbideratu garen arren, Etxebarritik gora asmatuko dugu zelan baten egin erromesaldian datozenen bidearekin. Arno mendirako bide horretan, bat egingo dugu Santiagorako gezi horiekin.
Etxebarri atzean itxi dogula denbora da… baina ibili eta ibili ari gara. Zaldiak hemen, noizean behin borda txiki bat, auzoren bat…. eta segi aurrera. Gelditu be egin barik.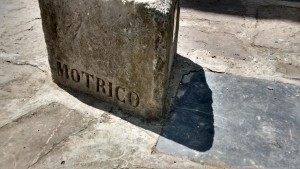 Halako baten, baserri
baten atarian ikusi dugu Elgoibar, Mutriku eta Markina bereizten dituen munarri bat. Baserriak batzen ditu hiru herriok. Mendaro somatzen da hor behean… beste aldean itsasoak behar du… eta atzean itxi dugun guzti hori da Markina.


Guk helburua Olatzen daukagu jarrita. Eta Arno mendiaren magalotatik helduko gara bertara.
Helduko bagara. Bertan lasai geratu, eta bazkaltzeko parada izango dugulakoan.
Heldu gara Olatz auzora. Ederra da lekua. Mutrikuko eremuan, inguru geologiko berezia da. Taberna jatetxe polita dauka bertan. Baina heldutakoan itxita dagoela somatu eta kaguenka hasi naiz ni… gaur bazkaldu barik!
Astoari prestatu diot goizean Etxebarrin hartutako olo baltz baldekada bat….. eta gustura ari da jaten.
Nik lurrean etzanda, begiratzea besterik ez daukat. Afari on batekin konformatu beharko dut gaur.
Olatzetik abiatu garenean, nahiko nekatuta geunden jadanik. Bai astoa, eta baita neu be. Elkarri somatu diogu.
Laister topatu dugu Kalbario ondoko aterpea. Galdetu eta baietz esan digute. Badago guretzako lekua. Astoa landan eta ni aterpean. Lotarako lekua ez ezik, afaltzeko be badago hemen. Eta dutxa on baten ostean kanpoan hartu dut garagardoren bat.
Une batez astoa etzanda ikusi dudanean, ikaratu egin naiz. Lehenengoz ikusten dut horrela lurrean botata. Hurbildu naiz… ea zelan ete dagoen gure Patakon. Eta atseden hartzen dabil. Lasaitu naiz.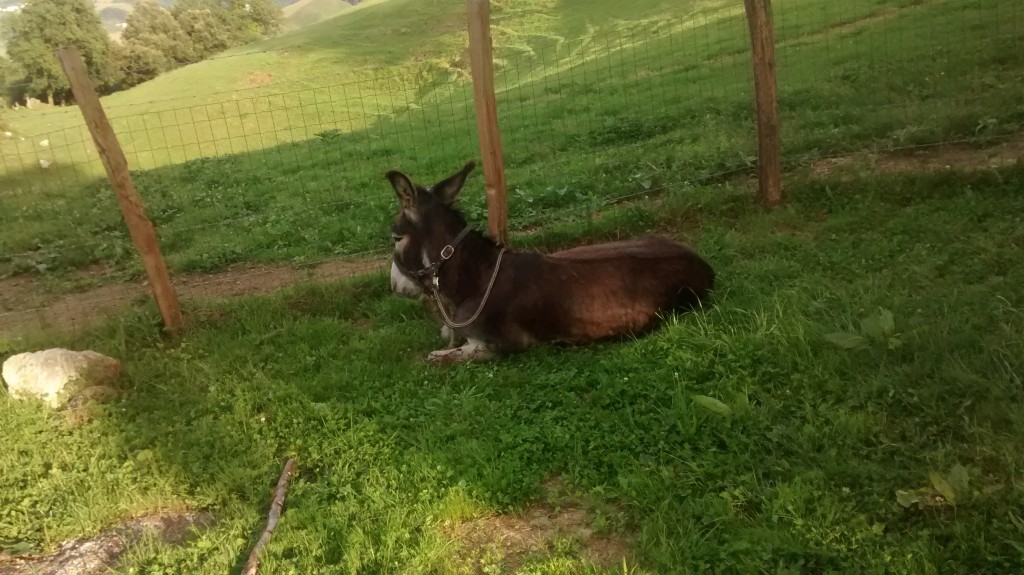 Inguruok Mutriku dira, eta hemendik hurbil daukagu Deba ere. Hori baina bihar izango da.
Kataluniako neska batzuekin afaldu dut, eta gero Aiert etorri zait bisitan twitterreko mezuak ikusita. Kontu kontari ibili gara gauez… askotarako denbora barik. Gaur ohe baten egingo dut lo. Hirugarren gaua abiatu ginenetik.